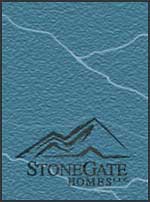 Our designs are distinctive,
functional, and inviting.
---
From the coast of California to the coast of Italy, our home designs represent some of the unique architecture found in Santa Barbara, as well as Tuscany. We've brought exquisite details from homes in these two beautiful locations to the homes we build against the backdrop of the majestic Rocky Mountains.

Step inside and gaze upward at the 10-foot and vaulted ceilings that are standard on every model. Experience the abundance of windows that give our homes an airy and open feel. And find the interesting niches that add flair to each model's personality. Stucco exteriors, tile roofs and a variety of different floor plans and intriguing options will reflect your individual taste.

Our single-level homes start at 2,000 square feet on the main level/with an additional 2,000 square feet or more on the lower level. Walkout lower levels are also available on selected lots. Priced from $700,000.



Built Green Colorado is a program of the Home Builders Association of Metro Denver that encourages home builders, suppliers and manufacturers to use technologies, products and practices to build homes that are better built and better for the environment.

To achieve the Built Green distinction, homes must be designed and constructed based on a rigorous checklist of more than 200 features in 22 categories covering energy efficiency, materials, health and safety, and resource conservation. Visit our website, builtgreen.org, where you'll find a list of enrolled Built Green builders, as well as sponsoring product and service providers.

Built Green is funded by dues and fees of more than 140 Colorado builder members, 50 Sponsor members and the substantial financial support of Industry Leaders.
Office:

(719) 597-2353
Email:

info@StoneGateHomes.net

---

Raising the Standard in Quality, Design, and Innovation . . . .

. . . Discover the Difference.