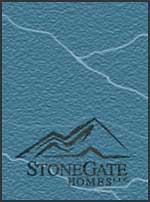 A building process as enjoyable
and exciting as the homes we create
---
ABC Extreme

Home Makeover


StoneGate Homes was involved with the Colorado Springs community in the donation of time and labor for the framing, siding, and interior trim of the ABC Extreme Home Makeover in Peyton, Colorado over a period of 96 hours in July, 2005.

Casas for Casa Homes Court
StoneGate Homes won the Children's Choice Award "Casa for Casa Homes Away from Harm" for a fund raiser where local builders designed and constructed playhouses and then raffled them off, and all the proceeds went to Casas for Casa Court Appointed Special Advocates — Appointed Special Advocates is an organization that is a voice in court for children who are victims of abuse, neglect or domestic conflict.
Office:

(719) 597-2353
Email:


[email protected]

---

Raising the Standard in Quality, Design, and Innovation . . . .

. . . Discover the Difference.